Discover Your Life's Purpose: Career Awareness Prompts
Have you ever asked yourself "What should I do in my life"? These thoughts can be daunting, but the CLA Career Center is here to help you take your next small step towards your giant leap! Each week in our newsletter, we will bring to you 7 prompts to help you discover your life's purpose to help navigate and explore various career paths that align your passion, talent, and mission in life.
Week 7:
"This is the most practical advice I have when it comes to finding your life purpose. It's what I like to call the sweet spot: the place where your talent, passion and mission intersect. Use what you do best to do what you love most to produce the results that matter.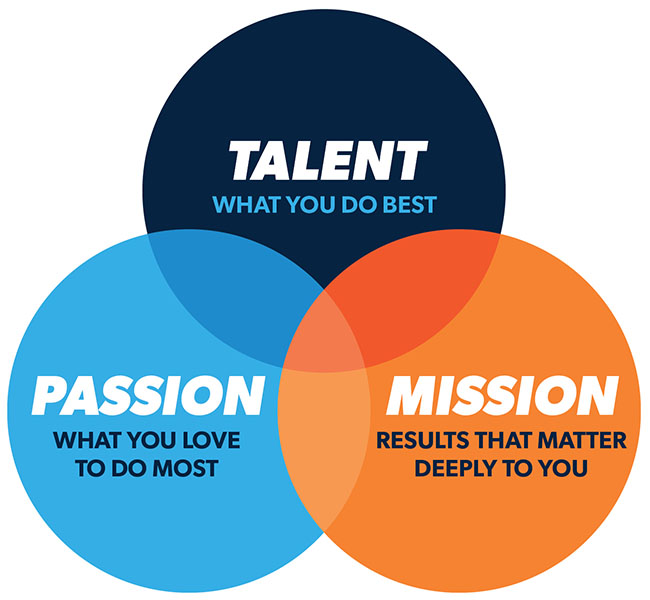 Every human being has talent. Every human being has passion. But talent and passion on their own are not enough. We're looking for a way to marry the two and unite them with the third element of discovering your purpose: your mission. Let's talk through each of these elements.
Talent is all about identifying and owning your natural skills and abilities—and working to develop them. Hopefully, you've had enough life experience to know what you're good at. Look back on your school, work and hobbies to get some clues. Are you a natural leader? A skilled communicator? Do you enjoy analyzing data or creating artistic masterpieces? If you're truly at a loss, get some input from friends, family, mentors and teachers by asking them to share what they observe about your skills.
Passion: What You Love to Do Most
It's not enough to be good at something. I want you to love what you do. In order to find your passion, think about the activities that spike high levels of emotion and devotion. You can just work, work, work, work without even noticing the time fly by. You come alive when you're engaged in these tasks—totally absorbed, both mentally and emotionally.
Mission: The Results That Matter
This is where it gets fun. The third ingredient to a meaningful calling is determining your mission—combining your talent and your passion to produce results that make a difference in the world. This one can be a little harder to grasp, so chew on these questions to help wrap your brain around mission:
Who do you want to help?
What problem do you want to fix?
What's the result of your work that makes your heart feel full?
Think back on a time when you made a difference in someone's life. What were you doing? How did it make you feel?
There you have it, folks—the sweet spot: talent, passion and mission. Once you've discovered your sweet spot, start making connections in the industry that you want to be a part of. It will take time and persistence, but I promise that if you work hard and never give up, you'll eventually find meaningful work."Ken Coleman, What Should I Do With My Life? 7 Questions to Help You Find Your Purpose
Week 6: 
"After you've spent time envisioning a fulfilled life, do the exact opposite. Think about what your life will look like if you stay exactly where you are. Maybe it's comfortable. Maybe you earn a good salary. Maybe you're living up to your parent's expectations. Take your current situation and play it out 10, 20, 30 years into the future. Does the road you're on lead to where you want to go?
A life without meaning will eventually make you miserable. You know why? Because your soul is demanding you to be who you were created to be. And if you deny yourself that opportunity, you're going to end up isolated, empty and lost. Don't be one of the miserable souls that sits on the sidelines of life and watches as others play the game. There's too much at stake."- Ken Coleman, What Should I Do With My Life? 7 Questions to Help You Find Your Purpose
Week 5:
"On the other side of the sacrifice, the hard work and the long nights, there's a life that's beautiful and satisfying. I want you to paint a picture of what that life is for you.
But let me clarify: This isn't about making buckets of money, seeing yourself in front of a private jet or in a luxurious hotel. This is about being the person you were created to be in order to make this world a better place. What a shame it would be to waste your life building your own tiny empire when there are people out there who need what you have to offer.
Being fulfilled goes beyond landing your dream job. This is about your community, your family, and the legacy you want to leave. Dream big. Write it down. Draw a picture—literally. And let that vision inform the choices you make every day.""- Ken Coleman, What Should I Do With My Life? 7 Questions to Help You Find Your Purpose
Week 4:
"Discovering why you're here on Earth isn't easy. It's not going to make your life smooth and uneventful. In fact, choosing to find and live by your life purpose is one of the most difficult things you'll ever undertake. Once you identify your calling, you need to be prepared to work for it. You're signing up for long, hard hours of unseen labor—learning and practicing and sharpening your skills. Anything worth doing takes time and patience.
People are often in love with the end result of a meaningful life. We look up to great teachers, athletes, authors, entrepreneurs—and we want what they have. But we fail to acknowledge that these men and women had to pay a price. As my good friend Dave Ramsey says, you work for 25 years, and then suddenly you're an overnight success. You must be willing to work hard if you want to make the most of your life."- Ken Coleman, What Should I Do With My Life? 7 Questions to Help You Find Your Purpose
 Week 3: 
"What's holding you back? When you set out to accomplish something meaningful, you'll always encounter resistance. You're terrified because it means you must change. And change is full of the unknown. Well, I've got some news for you, folks: If you want to find your purpose, you need to embrace the unknown. It doesn't have to scare you. Instead, it can fill you with the wonder of possibility (remember, think like a 10-year-old).
Identifying your obstacles is the first step in learning how to move past them. There are three enemies that will threaten to hold you back on this journey: fear, doubt and pride. Here are a few questions that will help you do some digging:
Fear: Are you afraid of what other people think? Are you worried about finances? Are you scared that you're going to choose the wrong path?
Doubt: Do you feel inadequate? Do you believe you don't have anything valuable to contribute? Are you second-guessing your gut instinct?
Pride: Is the fear of failure holding you back? Are you waiting to make a move until you have it all figured out?
Once you've identified what's holding you back, you've got a choice to make. You can choose to let your insecurities call the shots, or you can overcome your fear and move forward. Don't settle for "safe." Have the courage to take a risk and declare war on the enemies that will keep you from your purpose."- Ken Coleman, What Should I Do With My Life? 7 Questions to Help You Find Your Purpose
Week 2: 
Ask yourself, What's my favorite book, who's my favorite character in that book, and why am I drawn to them? (You can also replace "book" with "movie".)
As Ken Coleman States in his article What Should I Do With My Life? 7 Questions to Help You Find Your Purpose,  "Here's my own answer to this question: My favorite character is Jimmy Chitwood from the movie Hoosiers. I love Jimmy because he steps up for his team and his small town when he's needed most. During the final play of the state championship game, Jimmy's coach draws a play up where Jimmy is the decoy to get another teammate open for the last shot. Jimmy's teammates aren't buying it. They keep looking at Jimmy to see what he'll do. Finally, Jimmy speaks up to the coach and says, "I'll make it." His teammates smile with confidence. The coach agrees. They break the huddle, run the play, and Jimmy sinks the final shot to win the state championship! I want to be like Jimmy because he performs when it matters most. He comes through for those who are counting on him.
The heroes and heroines that we admire reveal a lot about who we are and what we want our lives to look like. Are you a strong leading lady like Wonder Woman? Or an educated, bold and loyal sidekick like Doc Holliday from Tombstone? Having a hero to imitate gives you a list of specific skills and qualities to develop in yourself as you move forward on your journey."
Week 1:
Week 1: What did you enjoy doing as a kid?
Think back to your youth-what were your dreams, hopes, hobbies? At this time, your life was full of possibilities, with no barriers stopping you from dreaming. Innately, we knew what we were good and what we wanted before your internal sabotage created feelings of doubt, fear, and pride. 
Return to your vision as a 10 year old and what you wanted life to look like. Yes, we all had unrealistic dreams of being a superhero, princess, etc.-but that's not what I'm talking about. Let's help your inner 10 year old discover your passion in life. Here are some more prompts to help you discover those buried dreams (trust your gut and do not overthink when answering):


• What brought you joy as a kid?
• What did you spend hours doing in your free time?
• What did your teachers, friends, parents say about your skills?
• What were you known for?
• In what classes, sports, or arts did you excel?
• What jobs did you dream of doing when you grew up, and what is the commonality between them?


CARPE
The CARPE map is a supplemental resource created to be used in conjunction with the Career Exploration Guide. The phases of CARPE will help you select and pursue a career that matches your interests, abilities, and passions. 
Connect, Assess, Research, Reflect, Reassess, Plan, Execute